Cosmetic Acupuncture at Integrated Complementary Healthcare Services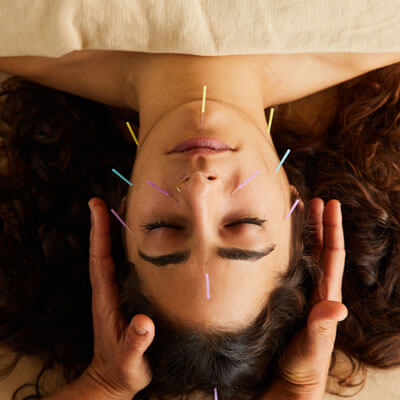 Cosmetic acupuncture is a gentle yet effective anti-aging treatment that doesn't require any downtime. This therapy builds collagen, improves muscle tone, increases circulation, decreases facial puffiness, and improves the overall complexion.
Patients notice a healthier look to their skin. Fine lines and wrinkles are minimized or erased. The skin becomes moisturized, pores become smaller, dark circles are reduced, eyebrows lift, and the chin and jaw become more firm.
Conditions That Can Be Addressed
If you'd like to turn back the clock, cosmetic acupuncture can address the following facial concerns:
Acne
Scars
Rosacea
Fine lines and wrinkles
Facial puffiness
Dark circles
Facial sagging
Sagging eyelids and eyebrows
What to Expect
Hair thin, sterile, stainless steel disposable needles are gently inserted into the face, neck, and scalp. Body points are added to address the underlying cause of the patient's concerns. Treatments may include massage and facial cupping after needle removal to further improve blood flow and collagen production. Treatments last 1-1.5 hours.
A series of 6-12 treatments, weekly or bi-weekly, is highly recommended as the results are cumulative. After 5-6 treatments most patients can see a noticeable change to their face. After 12 treatments wrinkles and fine lines start to fill in with a noticeable lift to the face. Cosmetic acupuncture is a full body treatment that promotes deep relaxation. Patients experience an overall improvement in their health with a more revitalized youthful appearance.
Cosmetic Acupuncture – $100 per treatment
*1 Month Package (Pack of 4): 3 Cosmetic and 1 Microneedling- $325 or 2 Cosmetic and 2 Microneedling- $300 (save $50)
*2 Month Package (Pack of 8): 6 Cosmetic and 2 Microneedling- $625 or 4 Cosmetic and 4 Microneedling- $575 (Save $125)
*3 Month Package (Pack of 12): 9 Cosmetic and 3 Microneedling- $925 or 6 Cosmetic and 6 Microneedling-$850 (Save $200)

Cosmetic Acupuncture in Moosic PA | (570) 703-0755